Applications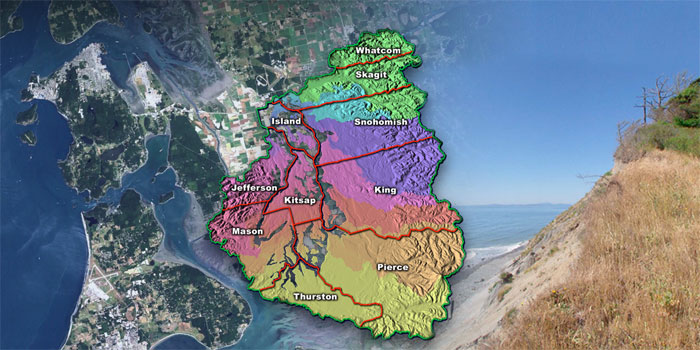 PRISM collaborates with local, state, federal, and tribal partners to help solve key regional problems
As part of PRISM's mission, we seek not only to understand the relationship of freshwater and marine ecosystems in the Puget Sound area as an integrated whole, but to apply that understanding in collaboration with others to help solve key regional problems.
Currently, the two most prominent examples of such regional "applications" are our service to the Hood Canal Dissolved Oxygen Project and the Skagit Alternative Futures Project.
In Hood Canal, extended periods of very low dissolved oxygen in subsurface waters of the southern canal have created "dead zones" for fish, crabs, and other aquatic life. While it is widely understood that excess nitrogen from human land uses are causing this problem, it has been far less clear what the primary sources of nitrogen were and what the most effective ways to reduce them would be. PRISM has focused its contribution to the project on modeling upland sources of nitrogen to inform these decisions.
In the Skagit, an EPA grant is funding a major community-based planning effort (led by Skagit County and involving a wide array of stakeholders) to develop a long-term vision and implementation strategy to address the often conflicting needs of the ecosystem, agriculture, forestry, and growth management. PRISM is playing two roles: coordinating the full range of technical support to the project (from inside and outside of the university); and, in collaboration with the UW's Climate Impacts Group, modeling the hydrologic impacts of climate change and land use choices within the Skagit and Samish river watersheds.
Previous PRISM applications have addressed other key regional issues, including:
Salmon management, including development of an integrated model of salmon response to harvest, hatchery, and habitat actions; recommendations for management of the UW hatchery; and an important study of the ecology of cutthroat trout.
Siting the outfall for King County's Brightwater sewage treatment plant.